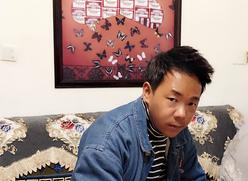 Karma Tenzin was born in 1988 in Lhasa, Tibet Autonomous Region (TAR), China. He currently works and lives in Lhasa. After graduating from College of Art, Tibet University in 2010, Karma started to be a teacher at Damxung County Secondary School in Lhasa. The place of creation was mainly in the school and a small bedroom of about 10 square meters. Karma achieved the happiness from art. He had love, freedom and the opportunities to express himself which made him to forget the hardships of the real environment. Karma's works were exhibited in domestic and international art institutions, including Red Gate Gallery (Beijing), Conrad Hong Kong (Asian Contemporary Art Show), Bocun Art Space (Tibet), Gendu Choephel Art Gallery (Tibet) and so on.
嘎玛旦增1988年出生于中国拉萨,目前生活工作于中国西藏拉萨。2010年毕业于西藏大学艺术学院后开始任教拉萨当雄县中学教师。创作的地方主要是在学校和差不多10平米的小卧室里。艺术中获得的幸福归宿,拥有的热爱与自由以及表达自我的机会使得他忘却现实环境的艰辛。作品已在国内外艺术机构展出过,其中包括:红门画廊(北京)、香港港丽酒店(香港亚洲当代艺术)、博存艺术空间(西藏)、根敦群佩艺术画廊(西藏)等。
Artist Statement
The current society is institutionalized and regularized, so we can only act as a clown, do formalism and to be an actor. Therefore, the present life needs to be reflected in a superb form since life is the source of art. I take art as part of my life, a natural phenomenon. I calmly observe, think, draw my own conclusion and finish my work. I think that the real art always comes from the heart and above it. My heart is determined by my sincere thoughts and passions.
艺术家理念
当下社会被体制化、规则化,因此我们只能充当个小丑的角色,搞形式、做演员。所以,需要用高超形式反映当下的生活,因为生活是一切艺术的源头。我把艺术看作是我生活中的一部分,均是自然发生现象。我心平气和地去观察、去思考,并得出我自己的结论,完成我的作品。我认为真正的艺术总是发自内心又高于内心,真诚的思想和激情决定了我的艺术。