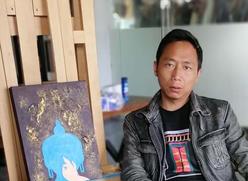 Namdron Gyaltsen was born in 1987 in Lhasa, Tibet Autonomous Region (TAR), China. Now he lives and works in Lhasa. Namdron teaches at Tibet Vocational Technical College in Lhasa after graduating from the College of Art at Tibet University. From 2011, 's works was exhibited in different institutions, such as Red Gate Gallery (Beijing), Conrad Hong Kong (Asian Contemporary Art Show), Gendu Choephel Art Gallery (Tibet), Bocun Art Space (Tibet), and so on.
朗珍坚赞1987年出生于中国拉萨,目前工作居住于中国西藏拉萨。自2010年从西藏大学艺术学院后任教于西藏职业技术学院教师。从2011年开始,作品在不同机构展出,如:红门画廊(北京)、香港港丽酒店(香港亚洲当代艺术)、根敦群培当代艺术画廊(西藏)、博存艺术空间(西藏)等。
Artistic Statement
Art for me is a good teacher and a helpful friend. Although art cannot speak, it makes me to fully understand myself in the creative process; Although art cannot listen, it allows me to tell without limit through my works. Art is the essential power of my intuition, the only teacher of my evolution, and the most significant friend of my perception of life.
Art not only brings me bits and pieces of life, but also sublimates my spiritual world. Desire to be a real artist is the dream that I will pursue in my life. As a native Tibetan, I have different feelings and understandings of religious art from the others. In my daily creation, I also use the elements of religious art to express the feelings of the present life.
艺术家理念
艺术对于我来说意味着良师益友。它虽不能言语,但能让我在创作过程中充分地认识自我;它虽不能倾听,但能让我通过作品无极限地去诉说。艺术是我直观自己的本质力量,是我进化自己的唯一导师,是我感悟人生最重要的朋友。
艺术给我带来的不仅是生活上的点滴,更使我的精神世界得到了升华。想要成为一名真正的艺术家是我一生将要追逐的梦想,更是我不断努力的原动力。作为土生土长的藏族人,我对宗教艺术有着异于别人的感情和理解,在平时的创作当中也经常会运用宗教艺术的元素去表现当下生活的点滴感受。