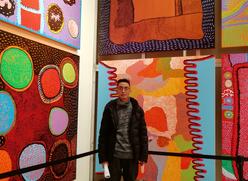 Nornor was born in 1988 in Lhasa, Tibet Autonomous Region (TAR) China, and he currently lives and works in Namulin county in Shigatse. After graduating from College of Art, Tibet University in 2010, he embarked on teaching in Nanmulin Secondary School. Since 2011, his works have been displayed in different art institutions and galleries, including Gendu Choephel Art Gallery (Tibet), Red Gate Gallery (Beijing), Yak Museum of Tibet (Lhasa).
诺诺1988年出生于中国拉萨,目前工作居住于日喀则南木林县。2010年从西藏大学艺术学院毕业后任教于日喀则南木林中学。自2011年开始,他的作品已在不同艺术机构种展出,如根敦群培当代艺术画廊(西藏),西藏牦牛博物馆(西藏),红门画廊(北京)等。
Artistic Statement
Since childhood, I have loved painting and had a preliminary understanding of art under the guidance of Professor Penpa. For the College Entrance Examination, because of the additional art test, I successfully received the offer from the College of Art. There I met Professor Gade and other excellent artists. From then on, I fell in love with art and even more with contemporary art. They have become parts of my body.
In 2012, under the introduction of Professor Penpa, I joined Bocun Art Space and set foot on the Journey of artistic creation. In order to have more time to create, I left Lhasa after graduation to work as a teacher in Nanmulin Secondary School in Shigatse. It seems that my career was far away from the contemporary art atmosphere, but, with the help of the internet, I never left the front line of contemporary art. KAWS, Yayoi Kusama… all the lines, waves, and reticulated figures are striking my mind.
I am fond of fashion trends and like to use various media, including using markers, sewing and the other materials to inject more creative possibilities. When I constantly absorb the nutrients from the contemporary art world at home and abroad, I also make attempts to add my own opinions to the works and express my inner feelings. Growing up in the land of Tibet, I always pay attention to things around me in daily life. They give me inspirations to create. I hope to focus on the current changes in Tibet and combine the cultural connotation of Tibet with the modern culture.
艺术家理念
从小热爱绘画并在边巴老师指导下对艺术有初步认识。高考因美术加试考试顺利拿到美术学院的通知书后又遇到嘎德老师和其他优秀的本地艺术家。从此,我爱上了艺术更爱上了当代艺术,它们已经是我身体的一部分。
2012年在边巴老师的介绍下加入博存艺术空间踏上了艺术创作的路程。为了拥有更多创作时间,我在毕业后离开拉萨前往日喀则南木林县一所中学当老师。职业似乎离当代艺术氛围很遥远,但在互联网的帮助下我丝毫未脱离当代艺术的前线。KAWS、草间弥生……一切线条、波点和网状形象都冲击着我的的思维。我喜欢时尚潮流的东西,喜欢运用各种的媒介、包括尝试运用马克笔、针线等材料能注入我更多创作可能性。我不断吸收来自国内外当代艺术界的养分时,也尝试在作品中加入自己的观点并去表达内心的感觉。生长于西藏这片土地,我始终关注身边日常生活的事物,它们赋予我创作灵感。我希望关注当下西藏的变化,并将西藏的文化内涵与现代文化相结合。