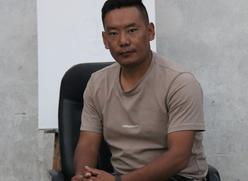 Phuchong was born in 1991 in Shigatse, Tibet Autonomous Region (TAR), China. Now he lives and works in Lhoka. After graduating from Lhasa Teacher College in 2012, he became a policeman in the town of Samye. Puchong's main works have been exhibited in Bocun Art Space (Lhasa) and Yak Museum of Tibet (Lhasa).
普琼1991年出生于中国西藏日喀则,目前居住于中国西藏山南。自2012年从拉萨师范大学毕业后在于桑耶镇当警察。主要作品在中国西藏展出,如:博存艺术空间(拉萨)、牦牛博物馆(拉萨)。
Artist Statement
I've been experimenting with a quiet and empty visual effect to express my artistic intent over these years. Thus, I decide to use black as the background and combine the traditional thangka techniques and with the expressive form of modern painting to achieve a different visual experience. Looking for the possibility of a new image effect, I reverently expressed the present life I experienced. Currently, I have created a group of works with black background including the works exhibit in this show, Time Square, Red Sofa and Game.
艺术家理念
这些年我一直在尝试一种安静、空旷的视觉效果来表现我的艺术意图。所以我决定以黑色为底色并结合传统黑唐卡的技法与现代绘画的表现形式来达到一种不同视觉的感受。在寻找一种新画面效果的可能性时,虔诚地表现出我所体验到的当下生活。目前创作了一批黑底系列作品,包括此次参展的作品《时代广场》《红色沙发》《游戏》。