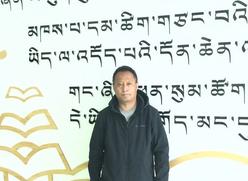 Tashi Phuntsok was born in 1977 in Lhasa, Tibet Autonomous Region (TAR), China. Now he lives and works in Lhasa. Right after graduating from the Academy of Arts, Minzu University of China in 2003, he and the other artists established Bocun Art Space. Since 2010, he has been a teacher at Lhasa No. 3 Primary School. His works were showed in different art institutions and galleries, such as Coral & Feather Gallery (Beijing), Songzhuang Art Center (Beijing), Bocun Art Space (Tibet) and more. Currently, he participated in The 9th China International Youth Art Festival (Beijing) and The 13th Asian Contemporary Art Show (Hong Kong).
扎西平措1977年出生于中国拉萨,现工作居住于中国西藏拉萨。2003年从中央民族大学美术学院毕业后,于同年与其他艺术家成立了西藏博存艺术空间成为创始人之一。从2010年开始在拉萨第三小学当教师。他的作品在不同艺术机构展出,如:珊和⽻羽画廊(北京)、宋庄美术馆(北京)、博存艺术空间(北京)等。目前,已参加了第九届国际青年艺术展以及十三届香港亚洲当代艺术展。
Artist Statement
Art for me is living in another world. This is a spiritual thing, a little bit away from the usual real life, just like an emotion and a kind of feeling. We should learn to separate the spiritual enjoyment and the material enjoyment. Art brings me new knowledge, which is a ladder for me to progress. And, it allows me to discover another world. As a Tibetan Artist, I believe that the relationship between Tibetan contemporary art and world contemporary art is a process of mutual studying.
艺术家理念
艺术对我来说是活在另外一个世界里。这是一种精神上的东西,跟平时现实生活有点距离,只是一个感受,是一种感觉,要学会分开精神享受和物质享受。艺术给我带来新的知识,是让我进步的阶梯,让我找到另外一个世界。身为藏族艺术家,我认为西藏当代艺术与世界当代艺术的关系是互相学习的过程。