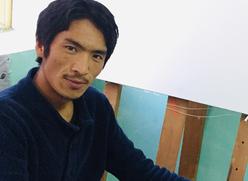 Thohim was born in 1989 in Shigatse, Tibet Autonomous Region (TAR), China. Now he lives in Lhasa. After graduating from Lhasa Teachers College in 2012, Thohim taught at Lalu Primary School in Lhasa. Thohim's main works are exhibited in Bocun Art Space (Lhasa) and Yak Museum of Tibet (Lhasa).
措真1989年出生于中国西藏日喀则,目前居住于中国西藏拉萨。自2012年从拉萨师范大学毕业后任教于拉萨拉鲁小学。主要作品在中国西藏展出,如:博存艺术空间(拉萨)、牦牛博物馆(拉萨)。
Artist Statement
At the beginning of the study of painting, I could not be understood by others. When my family saw me drawing black and white sketches, they were very taboo. They would associate the sketches with the black-and-white picture of the post-death photo on TV. Going to college is something for parents to be proud of. When they knew I was going to study art, they didn't understand. They thought that I was no differences from my brother who used to draw Tibetan pattern furniture for other people's houses during the off seasons. During the art examination, my relatives living in Shigatse also objected me to taking the art examination. Fortunately, all my high schoolmates supported me and pooled up 400RMB for me to go to Lhasa to take the Art examination.
In 2009, when I was in college, a group of avant-garde artists from Tibet held "Scorching Sun of Tibet - Tibetan Contemporary Art Exhibition". The published catalogue was my first time to come across Tibetan contemporary art. I have been receiving the traditional college education and am unable to understand contemporary art, so, naturally I lack desires to try. Thus, I still adhere the traditional ways - painting from observation and sketch to create. However, out of respects for the elders, the desires for different painting's knowledges and not to exclude these avant-garde painting methods, I also seriously visited contemporary art exhibitions held in Lhasa every time.
In the first semester of my junior year, I chose the direction of traditional Chinese painting. This was because the erudite Chinese painting professor often talks with us like friends. He shared different forms of arts, talked about Buddhism, and we climbed mountains and took photos together on weekends. In holiday, we went to several temples to see some old murals at our own expenses (similar to the inspection), but not so serious. This made me more obsessed with arts. After engaging in the work, I learned oil painting by myself. Firstly, I really love it. Secondly, the preparation of the oil painting tools is simple and suitable for me who has little spare time. Therefore, on weekends, I often sketch around Lhasa.
In 2013, I met seven members of Bocun Art Space in the small courtyard of the Lhasa ba Er Ku Cun neighborhood committee. Seeing them holding a theme exhibition as scheduled every year is my most direct opportunity to face and to understand the creative conceptions of a group of contemporary Tibetan artists. Under the influenced of them, I embarked on creating contemporary art.
艺术家理念
刚开始学画时旁人都不理解,家人看到我在画黑白素描时很忌讳。他们联想到的是,电视里死后照片弄黑白的画面。考上大学是父母们值得骄傲的事情。当知道我要学习艺术这个专业,他们有些想不明白。他们认为我与农闲时给别人家画藏式图案家具的哥哥没什么区别。艺考时,住在日喀则的亲戚家,他们也反对参加艺考。幸运的是高中同学都很支持我,为我凑了400元去拉萨参加艺考。
2009年刚上大学那会,西藏一群前卫的艺术家在北京798举办了《烈日西藏 - 当代艺术展》,出版的画册是我首次接触到的西藏当代艺术作品。我一直在接受传统学院教育,看不懂当代艺术,自然也没有想要尝试的心理。因此,依旧坚持以传统的方式 -- 写生和素描 -- 来进行创作。但出于对前辈的尊敬、不同绘画知识的渴求以及不排斥这些前卫的画法,也认真参观过拉萨每次举办的当代艺术展。
大三上学期分专业我选择了国画方向。只因博学的国画老师常与我们像朋友一样谈论,分享形式各异的艺术,谈论佛学,周末还会一起爬山拍照。假期我们自费去了我老家的几座寺庙看老壁画(类似考察,但没那么严肃)。这让我对艺术有更多的痴迷。参加工作后自学油画,一是喜欢,二是准备油画工具简单,更适合于业余时间不多的我。因此,周末双休日经常在拉萨的周边写生。
2013年在拉萨巴尔库存居委的小院子里认识了博存艺术空间的7为成员,每年看他们如期举行一次主题展是我最直接间面对、了解一群西藏当代艺术家的创作理念的机会。受他们影响的我开始走上创作当代艺术作品之路。