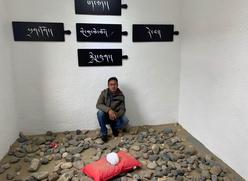 Phurbu was born in 1974 in Lhasa, Tibet Autonomous Region (TAR), China. Now he lives and works in Lhasa, Tibet, China. He graduated from Lhasa Teacher College in 1994. Currently, he is one of the founders of Bocun Art Space and teaching at Lalu primary school in Tibet. His works were exhibited in different art institutions, such as a gallery in Nepal, Coral & Feather Gallery (Beijing), Songzhuang Art Center (Beijing) and Bocun Art Space (Lhasa). Currently, he participated in The 9th China International Youth Art Festival (Beijing) and The 13th Asian Contemporary Art Show (Hong Kong).
普布1974年出生于中国拉萨,现工作居住于中国西藏拉萨。1994年从拉萨师范学院毕业。目前是博存艺术空间创始人之一并且任教于西藏拉鲁小学。他的作品已在不同艺术机构展出,如:尼泊尔的画廊,珊和⽻羽画廊(北京)、宋庄美术馆(北京)、博存艺术空间(北京)等。目前,他参加了第九届国际青年艺术展以及十三届香港亚洲当代艺术展。
Artistic Statement
I think artists are the most sensitive animals, who raise meaningful questions and warnings of current events, thus, triggering thoughts and affecting people. It is my creative concept to expose the society and institutional problem with the power of the individual strength. Each work, which I created, was to scream of the current events. Even if the event was small and superficial, I still had to focus on the problems and expressed my personal opinions, so as to prompt people to summarize, think and change the events.
I continue to explore whether the local Tibetan Thangka culture and Western oil painting can be harmoniously integrated in one picture, so as to express a better visual effect as the main form. The fusion of Thangka's symbols and oil paintings can be seen in the three-works which exhibited in this show.
艺术理念
我认为艺术家是最敏感的动物,是对当下发生的事件提出有意义的问题和警示,从而引发思想、影响人们。以个体的力量揭发一个社会、体制的问题是我创作的理念。我创造的每一个作品都是对当下发生的事件做出的呐喊,哪怕事件渺小,表达肤浅,但我依旧要去关注问题并表达个人见解,促使人们对事件做出总结、思考,得到改变。
我不断探索着藏族本土的唐卡文化和西方油画能否和谐融合在一个画面上,以此作为主要形式表达出更好的视觉效果,此次参展的三幅作品均能看到唐卡的符号及油画的融合。